NIRVANA WELLBEING RETREAT
Meditation Retreats
Nirvana Wellbeing Retreat is the home for accessible mind-body solutions which boost the individual's capacity to restore health. We offer four main types of retreats: meditation, Ayurvedic cooking, detox and nature based time-out and yoga retreats. Find the right retreat for you.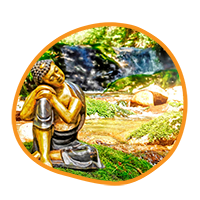 Mindfulness Meditation & Healing Retreats
With the turmoil going on all around us, many of us find our minds brimming with greater uncertainty, stress, and anxiety.
Meditation can help you relax with your life.
It can also lead to one of the most profound insights, namely, acceptance. Instead of looking for a better version of ourselves, through meditation, we make friends with who we are already, moment by moment. What could be better than that? The intention of meditation is to return to a fundamental state of being. May you find some time today to simply be, even if for a brief moment.
Layers of belief, conclusions, ideas, habits, attachments and fears are the prison walls constructed from the bricks of approval, applause, fame, acceptance, success, power, popularity, self-promotion, and so on.
What joy is there if you 'gain' the whole world and forfeit your life?
When we find that these worldly feelings lead to an empty, shallow life we must challenge stereotypical ideas and beliefs and the status quo. We must move you away from thrills, spills, excitement and self-glorification. Self fulfilment is a spiritual feeling. All are blessed and nourished.
---
---
Meditation retreats at Nirvana are silent meditation retreats.
---
---